The Concrete Mixer Pump is a machine used to transport liquid concrete from one area to another through a steel or flexible concrete pouring hose. These hoses lead to where the concrete needs to be placed. Concrete pumps are available in a variety of sizes to suit hourly output speeds and dumping distances.
How to find a reliable concrete mixer?
Construction sites without concrete pumps and mixers are hard to find.
It also goes to show that concrete mixer pumps are essential for building sturdy buildings, so it's important to invest in a reliable concrete mixer with a pump that fits your specifications.
So it is very important to find a reliable and reputable concrete mixer with pump supplier.
1. Our concrete mixer pump is composed of the following parts:

1) power system: diesel engine or electric motor;
2) concrete mixer: drum mixer, twin-shaft mixer or planetary mixer;

3) concrete pump;
4) concrete hopper;
5) concrete delivery pipe;
6) control system (remote control is available).
---
2. Factors we need to consider when we choose a concrete mixer pump:
1) concrete delivery capacity;
2) Max. aggregate size;
3) power supply; If there is no electricity supply on job site, diesel powered concrete mixer pump is needed; if there is electricity supply, we can use electricity powered concrete mixer pump because it is cheaper;
4) concrete slump. It's better that the concrete slump is over 100.
---
3. Details of our concrete mixer pump:
1) Diesel Concrete Mixer Pump
JBS30R Diesel Concrete Mixer Pump
JBS40R Diesel Concrete Mixer Pump
LHB40R Diesel Concrete Mixer Pump

Capacity: 15 m3/h

Diesel Engine Brand: Weifang

Diesel Engine Power: 66 kw

Concrete Mixer Type: Drum mixer

Capacity: 15 m3/h

Diesel Engine Brand: Weichai

Diesel Engine Power: 82 kw

Concrete Mixer Type: Drum mixer

Capacity: 22.5 m3/h

Diesel Engine Brand: Weichai

Diesel Engine Power: 82 kw

Concrete Mixer Type: Planetary mixer
| | | | |
| --- | --- | --- | --- |
| Model | JBS30R | JBS40R | LHB40R |
| Production Capacity (m3/h) | 15 | 15 | 22.5 |
| Concrete Mixer Type | Drum mixer | Drum mixer | Planetary mixer |
| Feeding Capacity of Mixer (L) | 560 | 560 | 1200 |
| Discharging Capacity of Mixer (L) | 350 | 350 | 750 |
| Max. Pumping Pressure (Mpa) | 10 | 10 | 10 |
| Diesel Engine Brand | Weifang | Weichai | Weichai |
| Diesel Engine Power (kw) | 66 | 82 | 82 |
| Max. Delivery Distance (V/H) (m) | 80/300 | 80/300 | 80/300 |
| Overall Size (mm) | 5000*1500* 1800 | 5500*2300* 3150 | 3800*2200* 2100 |
| Total Weight (kg) | 4500 | 6000 | 5600 |
2) Electric Concrete Mixer Pump
JBS30 Electric Concrete Mixer Pump
JBS40 Electric Concrete Mixer Pump
LHB40 Electric Concrete Mixer Pump

Capacity: 15 m3/h

Motor Brand: Rongcheng

Motor Power: 37 kw

Concrete Mixer Type: Drum mixer

Capacity: 15 m3/h

Motor Brand: Rongcheng

Motor Power: 45 kw

Concrete Mixer Type: Drum mixer

Capacity: 22.5 m3/h

Motor Brand: Rongcheng

Motor Power: 45kw

Concrete Mixer Type: Planetary mixer
| | | | |
| --- | --- | --- | --- |
| Model | JBS30 | JBS40 | LHB40 |
| Production Capacity (m3/h) | 15 | 15 | 22.5 |
| Concrete Mixer Type | Drum mixer | Drum mixer | Planetary mixer |
| Feeding Capacity of Mixer (L) | 560 | 560 | 1200 |
| Discharging Capacity of Mixer (L) | 350 | 350 | 750 |
| Max. Pumping Pressure (Mpa) | 10 | 10 | 10 |
| Motor Brand | Rongcheng | Rongcheng | Rongcheng |
| Motor Power (kw) | 37 | 45 | 45 |
| Max. Delivery Distance (V/H) (m) | 80/300 | 80/300 | 80/300 |
| Overall Size (mm) | 5000*1500* 1800 | 4200*2300* 3150 | 3800*2200* 2100 |
| Total Weight (kg) | 4000 | 4500 | 4800 |
3) Mini concrete mixer pump (diesel or electric type are all available)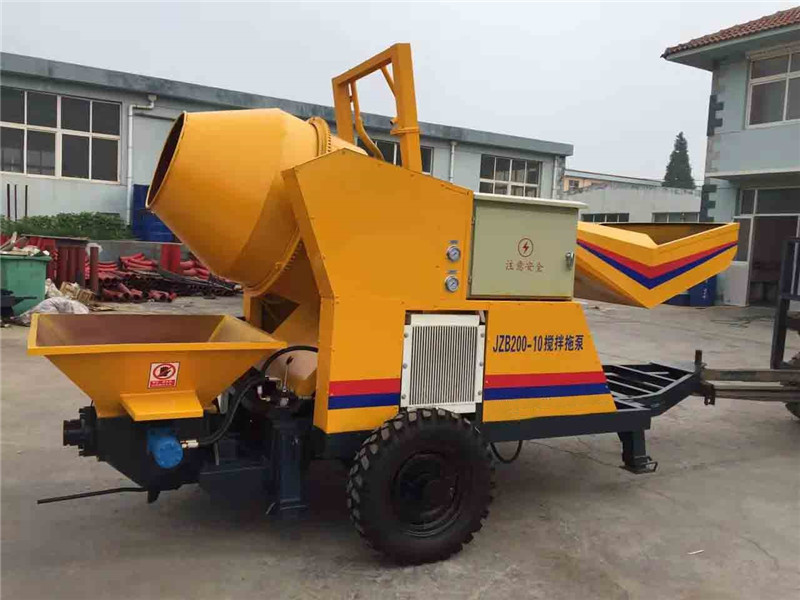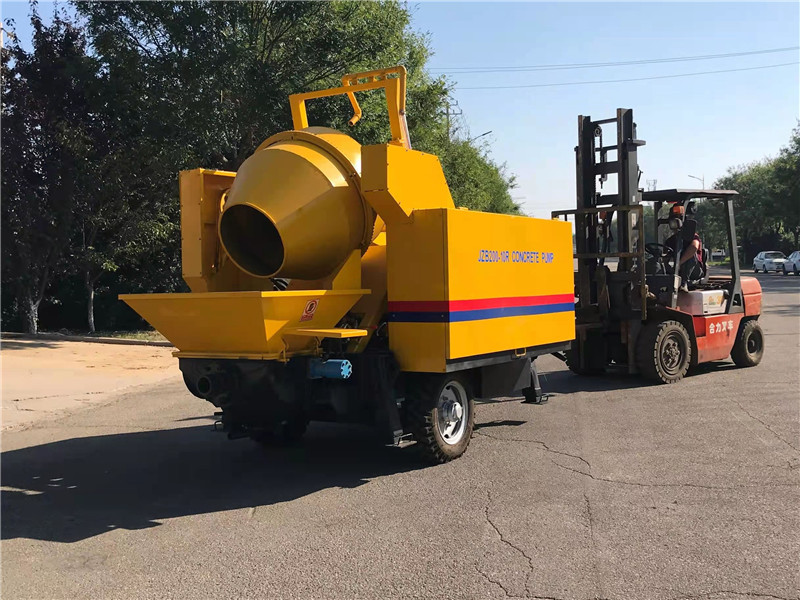 | | |
| --- | --- |
| Model | JBS10 |
| Production Capacity (m3/h) | 8 |
| Concrete Mixer Type | Drum mixer |
| Feeding Capacity of Mixer (L) | 300 |
| Discharging Capacity of Mixer (L) | 200 |
| Max. Pumping Pressure (Mpa) | 10 |
| Diesel engine | YANMAR |
| Engine Power (kw) | 30 |
| Max. Delivery Distance (V/H) (m) | 80/300 |
| Overall Size (mm) | 4100*2200* 2250 |
| Total Weight (kg) | 3800 |
---
4. Special concrete mixer pump
1) concrete pump with aggregate batching machine ( In this way, we can solve the problem of concrete formula accuracy for single concrete mixer pump)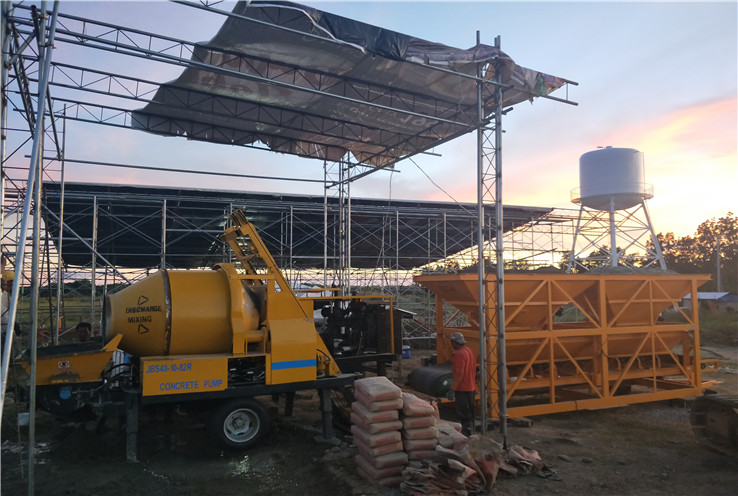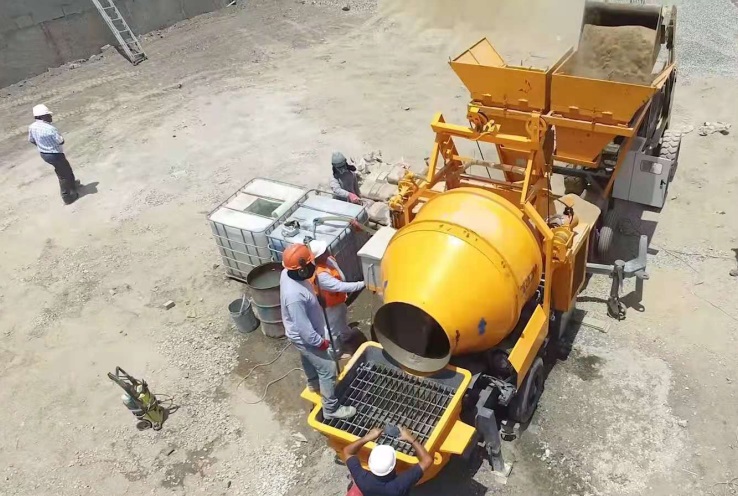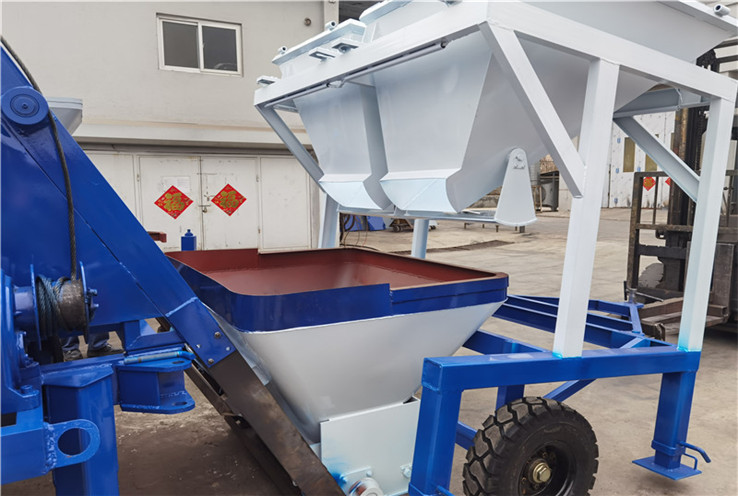 2) concrete pump with twin-shaft mixer (In this way, we can get higher concrete production capacity and better raw materials mixing performance)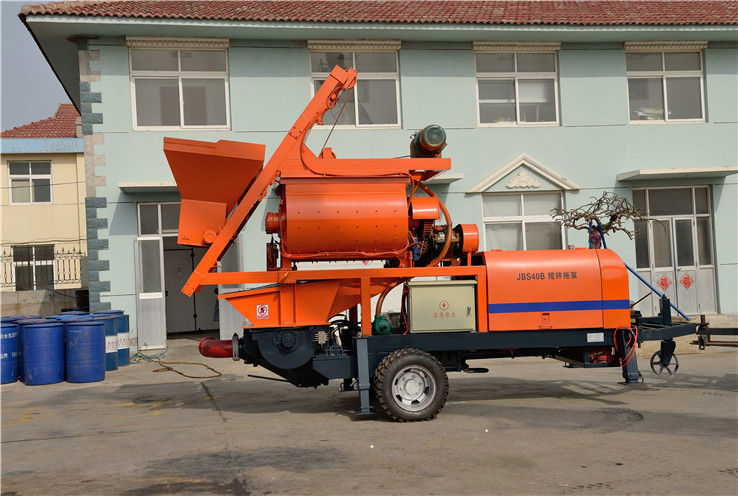 ---
5. Video of concrete mixer pump
None
None
None