Self Loading Concrete Mixer
The Self Loading Concrete Mixer is a "mobile mixing plant that goes anywhere". Today, self-unloading concrete mixer trucks are more and more widely used. Compared with traditional concrete mixer truck, it is flexible and convenient. In addition, the self-loading concrete mixer sold can be self-loading, mixing and unloading, which greatly improves the production efficiency and reduces the production time and cost. What's more, this self-loading mobile concrete mixer is suitable for engineering construction in various special conditions, crowded cities and remote areas.
Currently, we have 1.8m3, 2.6m3, 3.2m3, 4m3, 5.5m3 and 6.5 m3 self-loading concrete mixer.

---
1. Specification of 1.8m3 self-loading concrete mixer (Get a quotation)
| | |
| --- | --- |
| Item | SLM1.8 Self Loading Concrete Mixer |
| Drum Volume | 2,680 L |
| Mixing Capacity Per Batch | 1.8 m3 |
| Productivity | 7.2 m3/h |
| Diesel Engine Brand | 490 YUCHAI Supercharged Engine |
| Diesel Engine Power | 55 kw |
| Gearbox Model | ZL-265 Power Shift Gearbox |
| Gear Shift | 4 forward 4 back |
| Fuel Tank | 63 L |
| Total Hydraulic System Capacity | 63 L |
| Oil Tank | 16 L |
| Hydraulic Reducer | HJ80-43 |
| Hydraulic Pump | CBFC 50/40 |
| Hydraulic Motor | BM5-160 |
| Water Tank Volume | 400 L |
| Water Supply | Hydraulic Water Pump |
| Water Weighing | Time Relay |
| Wheelbase | 2,660 mm |
| Drive Form | Torque Converter |
| Drum Rotation Angle | 270º |
| Drum Rotary Speed | 13 r/min |
| Max. Speed | 30 km/h |
| Max. Gradeability | 30º |
| Mini. Turning Radius | 5,270 mm |
| Mini. Ground Clearance | 280 mm |
| Overall Dimensions (L*W*H) | 7,300*2,650*3,750 mm |
| Total Weight | 5,666 kg |
| Tyre | 23.5/70 Radial Tire |
| Wheel Side Reduction Bridge | 1 Set |
| Camera | 3 Sets |
| Air Conditioner | 1 Set |
| Aggregate & Cement Weighing System | 1 Set |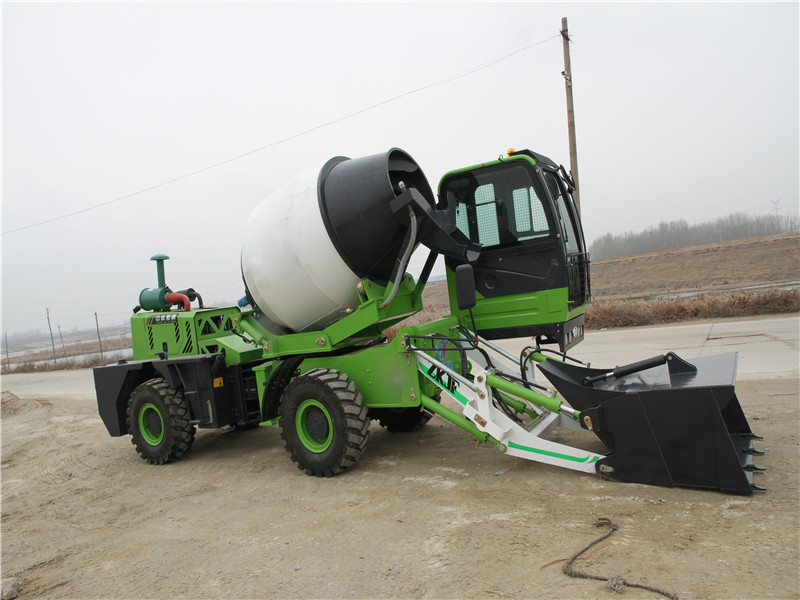 ---
2. Specification of 2.6m3 self-loading concrete mixer (Get a quotation)
| | |
| --- | --- |
| Item | SLM2.6 Self Loading Concrete Mixer |
| Drum Volume | 3,580 L |
| Mixing Capacity Per Batch | 2.6 m3 |
| Productivity | 10.4 m3/h |
| Diesel Engine Brand | YUCHAI 4102 Supercharged Engine |
| Diesel Engine Power | 78 kw |
| Gearbox Model | ZL-280 Power Shift Gearbox |
| Gear Shift | 4 forward 4 back |
| Fuel Tank | 75 L |
| Total Hydraulic System Capacity | 75 L |
| Oil Tank | 16 L |
| Hydraulic Reducer | HJ80-43 |
| Hydraulic Pump | CBGQ 2050/2032 |
| Hydraulic Motor | BM5-160 |
| Water Tank Volume | 500 L |
| Water Supply | Hydraulic Water Pump |
| Water Weighing | Time Relay |
| Wheelbase | 2,600 mm |
| Drive Form | Torque Converter |
| Drum Rotation Angle | 270º |
| Drum Rotary Speed | 13 r/min |
| Max. Speed | 30 km/h |
| Max. Gradeability | 30º |
| Mini. Turning Radius | 5,300 mm |
| Mini. Ground Clearance | 380 mm |
| Overall Dimensions (L*W*H) | 7,860*2,750*4,100 mm |
| Total Weight | 6,500 kg |
| Tire | 23.5/70 Radial Tire |
| Wheel Side Reduction Bridge | 1 Set |
| Camera | 3 Sets |
| Air Conditioner | 1 Set |
| Aggregate & Cement Weighing System | 1 Set |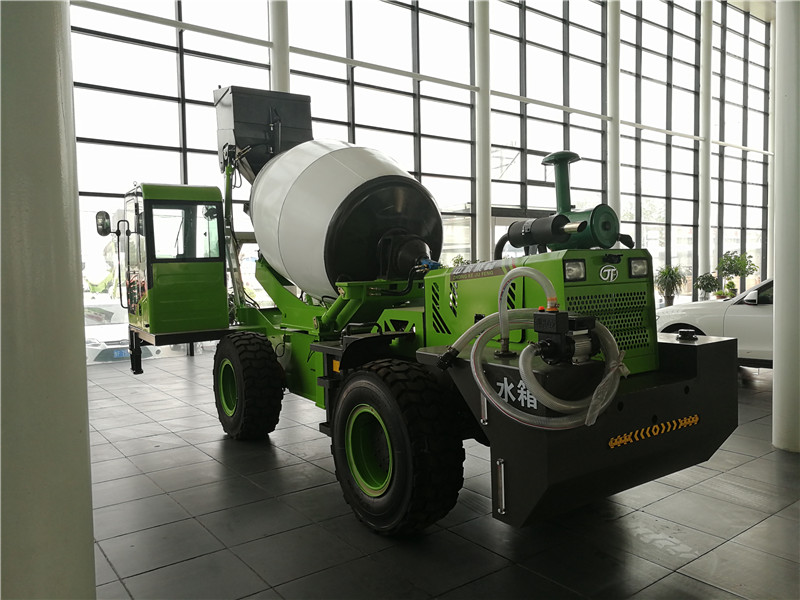 ---
3. Specification of 3.5m3 self-loading concrete mixer (Get a quotation)
| | |
| --- | --- |
| Item | SLM3.5 Self Loading Concrete Mixer |
| Drum Volume | 4,740 L |
| Mixing Capacity Per Batch | 3.5 m3 |
| Productivity | 14 m3/h |
| Diesel Engine Brand | YUCHAI 4105 Supercharged Engine |
| Diesel Engine Power | 85 kw |
| Gearbox Model | ZL-280 Power Shift Gearbox |
| Gear Shift | 4 forward 4 back |
| Fuel Tank | 75 L |
| Total Hydraulic System Capacity | 75 L |
| Oil Tank | 16 L |
| Hydraulic Reducer | HJ80-43 |
| Hydraulic Pump | CBGQ 2040/2080 |
| Hydraulic Motor | BM5-160 |
| Water Tank Volume | 620 L |
| Water Supply | Hydraulic Water Pump |
| Water Weighing | Time Relay |
| Wheelbase | 2,900 mm |
| Drive Form | Torque Converter |
| Drum Rotation Angle | 270º |
| Drum Rotary Speed | 13 r/min |
| Max. Speed | 30 km/h |
| Max. Gradeability | 30º |
| Mini. Turning Radius | 5,300 mm |
| Mini. Ground Clearance | 380 mm |
| Overall Dimensions (L*W*H) | 7,830*2,680*4,170 mm |
| Total Weight | 7,500 kg |
| Tire | 23.5/70 Radial Tire |
| Wheel Side Reduction Bridge | 1 Set |
| Camera | 3 Sets |
| Air Conditioner | 1 Set |
| Aggregate & Cement Weighing System | 1 Set |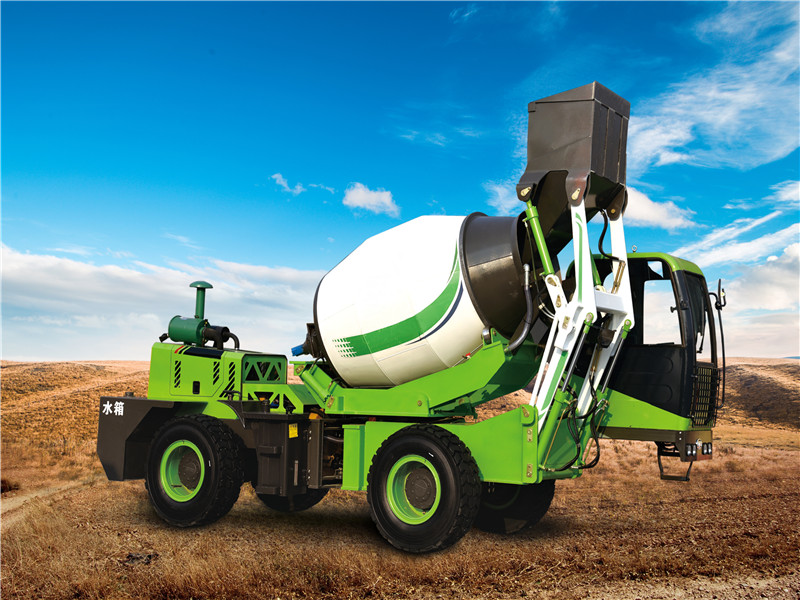 ---
4. Specification of 4m3 self-loading concrete mixer (Get a quotation)
| | |
| --- | --- |
| Item | SLM4 Self Loading Concrete Mixer |
| Drum Volume | 6,000 L |
| Mixing Capacity Per Batch | 4 m3 |
| Productivity | 16 m3/h |
| Diesel Engine Brand | YUCHAI YCD4J22G |
| Diesel Engine Power | 85 kw |
| Gearbox Model | ZL-280 Power Shift Gearbox |
| Gear Shift | 4 forward 4 back |
| Fuel Tank | 230 L |
| Total Hydraulic System Capacity | 170 L |
| Oil Tank | 16 L |
| Hydraulic Reducer | KY07-5-J |
| Hydraulic Pump | Interpump |
| Hydraulic Motor | HAA2FM56/ 61W-VTD527 |
| Water Tank Volume | 660 L |
| Water Supply | Hydraulic Water Pump |
| Water Weighing | Time Relay |
| Wheelbase | 2,480 mm |
| Drive Form | Torque Converter |
| Drum Rotation Angle | 270º |
| Drum Rotary Speed | 17 r/min |
| Max. Speed | 35 km/h |
| Max. Gradeability | 45º |
| Mini. Turning Radius | 4,800 mm |
| Mini. Ground Clearance | 330 mm |
| Overall Dimensions (L*W*H) | 7640*2870*4750 mm |
| Total Weight | 9 T |
| Tire | 1670-22.5 Wire Bead (Front Axle Equipped with Double Tires) |
| Loading Axle Capacity | 20 T |
| Camera | 3 Sets |
| High Pressure Cleaning Pump | 1 Set |
| Aggregate & Cement Weighing System | 1 Set |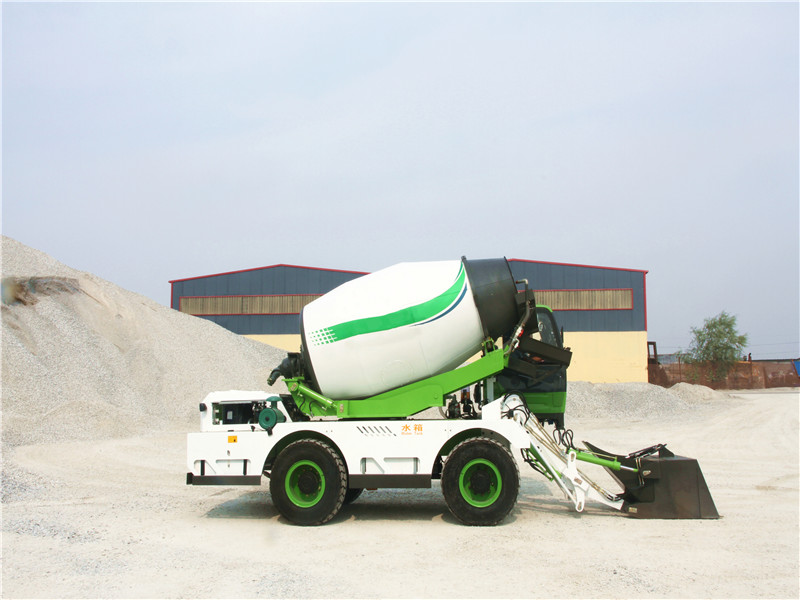 ---
5. Specification of 5.5m3 self-loading concrete mixer (Get a quotation)
| | |
| --- | --- |
| Item | SLM5.5 Self Loading Concrete Mixer (Two-way Driving) |
| Drum Volume | 7,800 L |
| Mixing Capacity Per Batch | 5,5 m3 |
| Productivity | 22 m3/h |
| Diesel Engine Brand | FAW XICHAI 6110 Supercharged Engine |
| Diesel Engine Power | 110 kw |
| Gearbox Model | ZL-315 Power Shift Gearbox |
| Gear Shift | 4 forward 4 back |
| Fuel Tank | 180 L |
| Hydraulic Oil Tank | 180 L |
| Engine Oil Tank | 16 L |
| Hydraulic Reducer | HJ80-43 |
| Hydraulic Pump | CBGQ 2050/2032 |
| Hydraulic Motor | USA SUNNY56 |
| Water Tank Volume | 860 L |
| Water Supply | Hydraulic Water Pump |
| Water Weighing | Time Relay |
| Wheelbase | 3,350 mm |
| Drive Form | Torque Converter |
| Drum Rotation Angle | 270º |
| Drum Rotary Speed | 20 r/min |
| Max. Speed | 42 km/h |
| Max. Gradeability | 45º |
| Mini. Turning Radius | 6,200 mm |
| Mini. Ground Clearance | 380 mm |
| Overall Dimensions (L*W*H) | 8,450*3,100*4,580 mm |
| Total Weight | 11.2 T |
| Tire | 1670-22.5 Wire Bead (Front Axle Equipped with Double Tires) |
| Loading Axle Capacity | 20 T |
| Camera | 3 Sets |
| High Pressure Cleaning Pump | 1 Set |
| Aggregate & Cement Weighing System | 1 Set |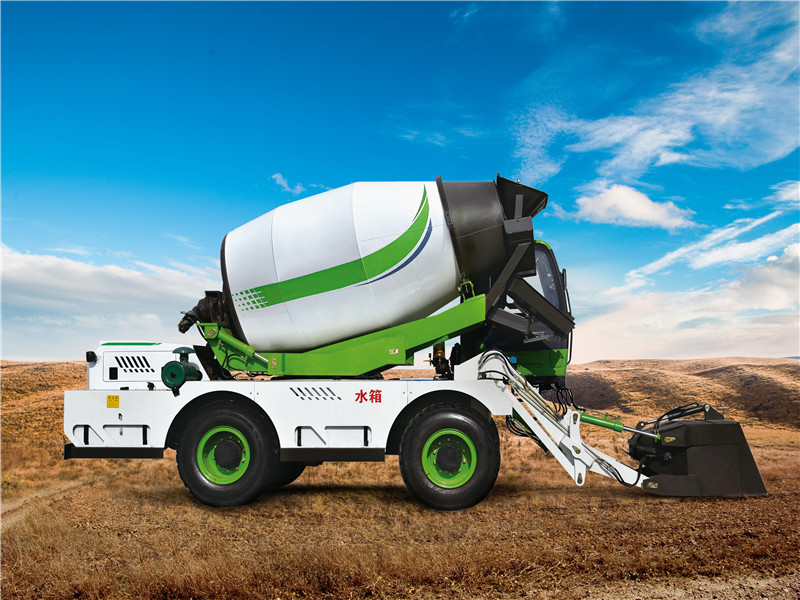 ---
6. Specification of 6.5m3 self-loading concrete mixer (Get a quotation)
| | |
| --- | --- |
| Item | SLM6.5 Self Loading Concrete Mixer |
| Drum Volume | 9,000 L |
| Mixing Capacity Per Batch | 6,5 m3 |
| Productivity | 26 m3/h |
| Diesel Engine Brand | Weichai 6105 Supercharged Engine |
| Diesel Engine Power | 92 kw |
| Gearbox Model | ZL-315 Power Shift Gearbox |
| Gear Shift | 4 forward 4 back |
| Fuel Tank | 370 L |
| Hydraulic Oil Tank | 278 L |
| Engine Oil Tank | 16 L |
| Reducer | KY07-5-J |
| Hydraulic Pump | Interpump |
| Hydraulic Motor | USA SUNNY63 |
| Water Tank Volume | 1,465 L |
| Water Supply | Hydraulic Water Pump |
| Water Weighing | Time Relay |
| Wheelbase | 2,850 mm |
| Drive Form | Torque Converter |
| Drum Rotation Angle | 290º |
| Drum Rotary Speed | 16.5 r/min |
| Max. Speed | 40 km/h |
| Max. Gradeability | 45º |
| Mini. Turning Radius | 4,800 mm |
| Mini. Ground Clearance | 350 mm |
| Overall Dimensions (L*W*H) | 8,450*3,050*4,830 mm |
| Total Weight | 12.52 T |
| Tire | 100R24 (Double High Pressure Tire) |
| Four Wheel Steering Drive Bridge | 15 T |
| Camera | 3 Sets |
| Imported Piston Motor | 1 Set |
| Aggregate & Cement Weighing System | 1 Set |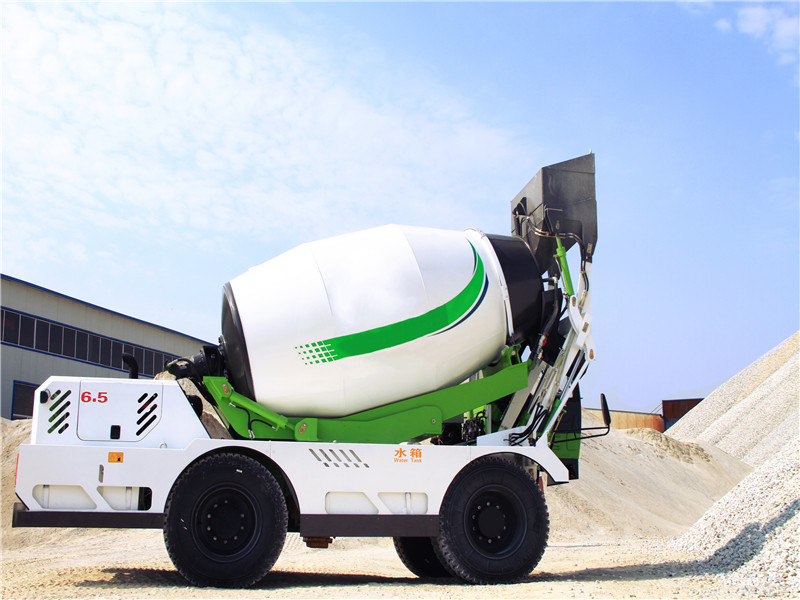 ---
Working vedio of self loading mixer
None
None
None