Mobile Concrete Batching Plant Processing Technology
Do you realize that a mobile concrete batching plant can reduce your construction costs? Transporting ready-mixed concrete to your site can be an unnecessary expense. If you set up a mobile batching plant, you can reduce transportation costs while producing higher quality cement from onsite concrete batching because each batch is produced fresh on site. When transporting concrete from an off-site batching plant, external factors can cause delays in delivery.
Sometimes, due to time delays, road drivers are forced to dilute the concrete, resulting in poor quality concrete. In contrast, mobile concrete batching plants allow you to deliver concrete to where it needs to be within minutes of production. Along these routes, your concrete is equally protected from external factors, such as heat and moisture. Concrete batching plants are lively and powerful. You can set up a concrete mixing plant on your site in a day. When you set up a concrete mixing plant, you can adjust your concrete output to the needs of the job, providing you with the adaptability you need to make the most of your concrete production.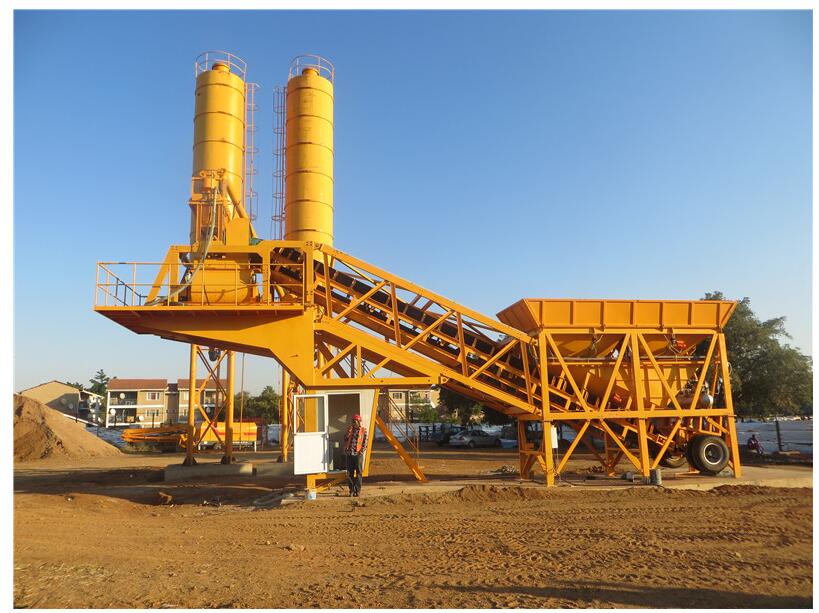 The process of mobile concrete batching plant
Mobile concrete batching plant construction cycle is short, construction line is long, frequent transfer users design and develop the concrete mixing equipment to follow its processing.
1. Cement tank process, process flow (overall)
Cement tank volume plate to be undercut, open and level to be placed, the top plate components -- tank section rolling -- composite -- under the cone section group with reinforcement section (slot) and at the same time the whole group correction team self-inspection, deformation Polishing splash weld marks, quantity -- quality -- rust removal and painting, factory installation.
2. small mobile mixing plant sand bin process, process flow (consisting of two parts of the box and funnel)
Pressing piece splice plate, release, composite -- processing -- team self-inspection grinding weld splash, rust removal, quality inspection painting, factory.
3. Tank process (including additive tanks, overall production)
Flat contact plate → top cone production → attic tank rolling, welding materials → bottom plate lower section welding (welding bevel steel while making) → forming → railing, steel ladder from the welding group into the hole → inspection → splash internal burr grinding warehouse clean up debris kerosene leakage → rust removal → QC → paint factory.
4. Tank process
Flat contact plate → group welding seam reinforcement kerosene leakage welding → panel self-inspection cabinet debris cleaning rust removal → QC → paint factory.
5. Main frame process portable concrete mixing plant (plant positive column, beam single plant)
Cutting → column welding (including a support beam and the main beam and column bracket on each direction of each piece) → main beam and secondary beam production team → self-inspection → burr grinding splash rust → QC → paint factory.
Mobile concrete batching plant application
Mobile concrete batching plant can be used for various tasks and solve many problems. The basic aspect that a mobile concrete batching plant can bring is the adaptability to continuously place fresh concrete nearby when you need it. These are some of the most common applications for mobile concrete batching plants.
▸General concrete including maintenance
▸Flow fill
▸Fast setting concrete
▸Permeable concrete
▸Overlay concrete
▸Civil applications
▸Wet and dry shotcrete
▸Roller comparison concrete
▸Self-compacting concrete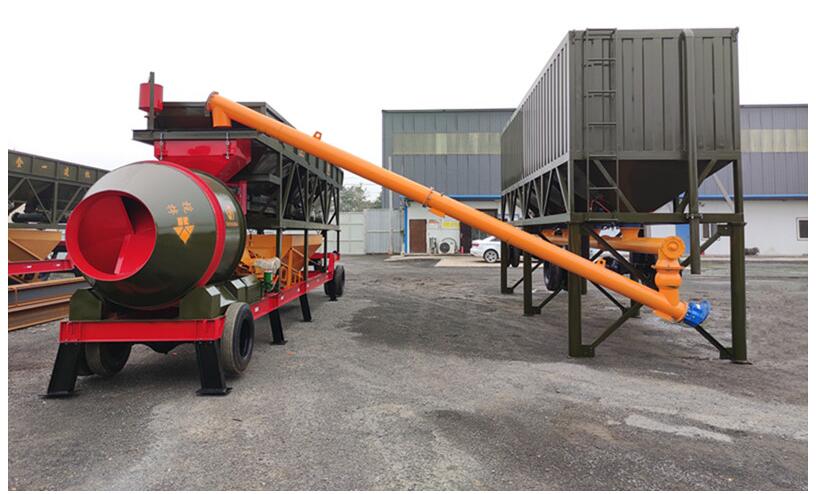 The advantages of the mobile concrete mixing plant are as follows.
▸Compact construction with all procedures for concrete production centralized in a trailer suspension unit.
▸Easy to understand human-machine interface, reliable work execution and stable operation even in various harsh environments.
▸Large continuous running capacity of the twin-shaft forced mixer, deep mixing direction, high mixing quality and rapid mixing uniformity.
▸The hardware of the whole arrangement can be quickly transported to the construction site by the whole suspension structure, and can be assembled on site without commissioning.
▸High degree of mechanization, strong mobility, simple operation and good stability.
▸The structure is firm and the spacing format is compact and reasonable, ensuring adaptability while guaranteeing the production limit.
▸The mobile concrete mixing plant covers a small area and is easy to transfer and move, which makes the construction scale greatly reduced.