When should you use a concrete pump?
Versatile concrete pumping services can save your valuable time and energy, allowing you to pour concrete even to locations that are most difficult to reach.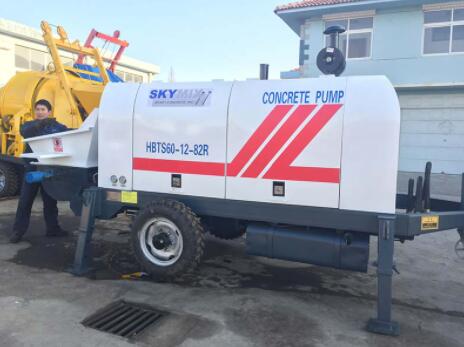 Benefits of concrete pumps
◭ Wide range of delivery
A concrete pump's hose or spray bar can deliver concrete precisely to hard-to-reach areas, such as high to tall buildings, enclosed buildings, fences and steep slopes.
How far can a concrete pump reach? The vertical range of a typical cantilever pump is 41.9 meters (137 feet). The horizontal range is 38 meters (124.7 feet). However, longer booms can reach over 200 feet.
◭ Lower labor costs
Placing concrete with a pump requires fewer concrete contractors to distribute the concrete. Instead of relying on multiple workers moving back and forth to place concrete, concrete pump operators will use a boom or hose to place the concrete accurately. The continuous flow of concrete means no time is wasted.
◭ Fast, quality concrete placement
Concrete pumps can pump large volumes of concrete as fast as a truck mixer can discharge it. Many pumps can pump 30 to 100 cubic meters of concrete per hour. This fast, precise placement also ensures a high quality pour.
Concrete pumps also have a very fast set-up time - arriving on site and pumping concrete within an hour.
Concrete pump uses and types of projects
The main purpose of a concrete pump is to save time, money and energy on large or small concrete projects. The pump allows you to place the concrete exactly where you need it, regardless of the obstacles that may be in the way when the truck reaches the area.
◭ Smaller pipe line pumps convey smaller volumes of concrete, so they are well suited for smaller concrete construction projects such as pools, sidewalks, floor panels, low-rise buildings and slabs for single-family homes.
Line pumps can also be used for grout, mortar, wet mortar, shotcrete, sludge and foam concrete. They are well suited for repairing submerged concrete, placing concrete in highly reinforced sections, filling fabric forms and constructing bond beams.
◭ However, larger pipeline pumps are available for tunnelling and high-rise construction up to hundreds of meters or kilometers from trucks.
◭ Due to the large volume of concrete pumped using boom pumps, boom pumps are best suited for large construction projects, such as large industrial projects and high-rise buildings.
The ease of use of concrete pumps, increased productivity and the ability to complete projects on time and within budget make concrete pumping a cost effective method of placing concrete for large and small concrete projects.