Different Types of Concrete Mixing Plants
Concrete mixing plant is divided into different types according to different classification criteria. Plants are generally divided into stationary concrete mixing plants and mobile concrete mixing plants. This is the basic classification that many manufacturers distinguish in their production.
Most of the small mixing plants are modular splicing design and are mainly used by large commercial concrete manufacturers or related concrete component manufacturers. They are usually used in large scale construction projects and have high production capacity and stability against disturbances. Mobile batching plant adopts traction device to pull, with good maneuverability and more flexible production. It is generally used in various small and medium-sized temporary construction projects.
Commercial Concrete Plant and Engineering Concrete Plant
According to the usage, concrete mixing plant is divided into commercial concrete plant and engineered concrete plant. A commercial concrete plant is a concrete mixing plant based on commercial use. It should be efficient and economical and meet environmental standards. Engineered concrete plants tend to be for self-use. The buyer should consider whether it meets the project.
Single-host batching plant and double-host batching plant
According to the number of concrete mixers, concrete mixing plant is divided into single main batching plant and double main batching plant. The model name of double-host mixing plant is "Double HZS" series concrete mixing plant. For example, the double HZS25 concrete mixing plant is equipped with two JS500 concrete mixers.
Independent weighing and cumulative weighing method
According to the weighing method, there are independent weighing and cumulative weighing methods. On the one hand, the independent weighing is equipped with a separate weighing unit for each material. After weighing each material, these materials will be mixed in the mixer. This weighing method is highly accurate, but the design is complex and costly.
On the other hand, cumulative weighing is adding all aggregates to a uniform hopper. It is error-prone, which is not good for final production, and the more batch bins there are. In addition, the more batch bins there are, the higher the possibility of deviation. Therefore, this method is not suitable for large projects. However, it has a simple structural design and low cost.
Dosing plants are also designed for specific locations and environments. They include ;
Mobile Concrete Batching Plant
Mobile concrete batching plant is a concrete mixing plant. It is suitable for projects that require frequent transitions, short construction periods and long construction lines.
Meanwhile, the following systems are concentrated on the trailer unit, including material storage, weighing, transportation, mixing, unloading system and automatic control system. Moreover, the mobile concrete mixing plant not only has the functions of concrete mixing plant, but also has the advantages of easy movement and flexible assembly and disassembly.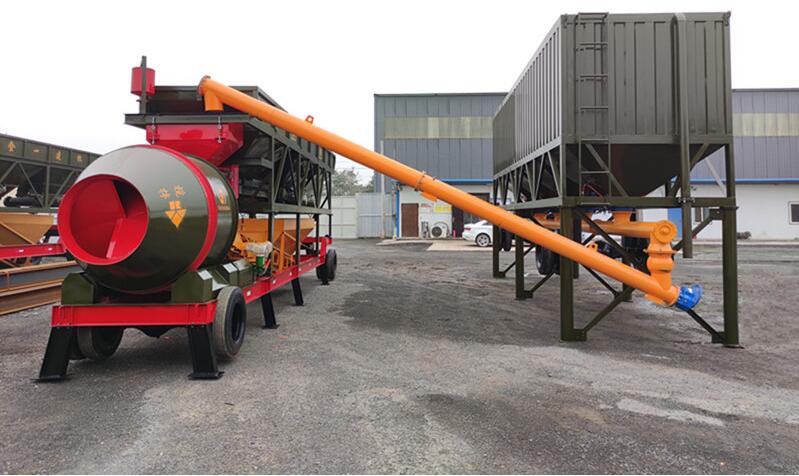 Stationary Concrete Mixing Plant
Stationary concrete mixing plant is easy to install. It is used for projects with long construction period and large demand of concrete. In addition, it is suitable for various complex terrain structures.
Compared with mobile concrete mixing plant, stationary concrete mixing plant is more uniform; it has higher production efficiency. At the same time, stationary concrete mixing plant has good mixing effect for dry, plastic and various proportion of concrete. In addition, it can be used as a commercial concrete plant for the production of commercial concrete.
Tower Concrete Mixing Plant
Tower type concrete mixing plant is a new type of concrete mixing plant. Compared with the traditional concrete plant, it uses an aggregate metering system that reduces four intermediate steps and replaces them with vertical discharge metering. At the same time, this method saves a lot of measuring time and improves production efficiency. Compared with the same type of concrete mixing plant, the production efficiency of tower concrete mixing plant is one third higher.
Containerized Concrete Mixing Plant
Container type concrete mixing plant is a kind of mixing equipment. It consists of mixing system, control system, storage system, weighing system and conveying system.
Compared with the traditional concrete mixing plant, the containerized concrete mixing plant does not need to set up legs and mounting brackets. In addition, the container type concrete mixing plant has excellent environmental performance, easy transportation and simple installation. It is also suitable for concrete production in various hydropower, highway, port, airport, bridge and other construction projects, as well as the construction of commercial concrete plants.